Lake Conroe Kayak Rental Preferred to Lake Conroe Canoe Rental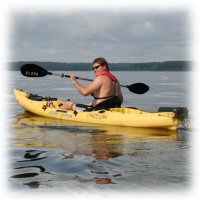 1. I've never kayaked before. Is it safe?
We feel kayaking is safe. But this is our business. Our customers, Houston-area kayakers, and world travelers feel the same way. This is why, along with great service, they give us repeat business and referrals. NLCPC offers their guests: Class 1 (water) kayaking; upgraded paddling and safety equipment; tips and orientation on kayaking; and a great put-in location !
2. Does Lake Conroe have any rapids to contend with?
Lake Conroe is rated as class I water (flat & slow moving). There are no rapids on this lake. Because it is a large recreational lake (22,000 acres), it offers different types of kayaking choices for beginners and experienced paddlers (i.e., touring, extended touring, fishing, recreation and racing, etc.)
3. I've been to Lake Conroe off of Lake Conroe Parkway (Hwy 105). Why would one want to kayak in an area with too much power boat activity?
Not many people do. However, that tends to be on the south end of the lake. At least during peak season. But, there is a huge section of Lake Conroe north of the FM 1097 Rotary Bridge surrounded by Willis, Montgomery, Huntsville, and New Waverly. From this vista, one can appreciate how vast the two main river channels of this lake are. This area and beyond is ideal for kayaking, and is why we positioned our company around this area. Please view map on the "Tours & Trips" page.
The view of the Sam Houston National Forest from this bridge holds a majestic presence. It also exhibits the countless kayak touring opportunities which exist along 50 miles of undisturbed natural shoreline. Northward, on Lake Conroe, has certain areas with weathered stumps and occasional sandbars, The further north you paddle, one will realize how good of a job they do to filter out power boats.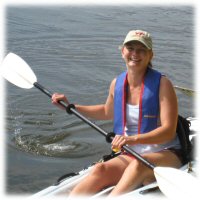 4. I have experience canoeing. Can I adjust to kayaking?
We feel you can. After customers try our kayaks, they soon begin to enjoy our open-deck yaks. Eventually, we successfully introduce many canoeists to kayaking that were initially reluctant. This is mainly due to our paddlers can sit while they paddle, yet still have a quick exit due to the sit-on-top concept. These customers also feel it can give them more control of their own boat thus more confidence. They also see why according to paddle sports industry surveys, kayaking continues to grow in popularity, especially in Texas.
5. Am I in good enough shape to kayak?
Many people are. And, in our opinion, paddling a kayak is not that hard to do. If a participant has a normal sense of balance, is reasonably active, has the desire and love for the water, they tend to enjoy paddling NLCPC's kayaks for two hours. Another benefit of kayaking on Class I water is paddling at your own speed. This allows you to focus on your upper body workout, but also subtly on the core, abdomen and oblique muscle groups. For the enthusiasts, racing and/or cardio kayaking is always available, too.
6. Do you rent tandem kayaks (for two)?
Yes, we now have a few for rent, but most of our rental fleet consists of open deck, SOLO, sit-on-top kayaks. Most users find that one-person kayaks give them more control. Additionally, solo kayaks allow one to enjoy the efficiency of a yak and, their paddle time on the water.
7. Where do I paddle my kayak to from NLCPC's new beach location?
Initially, one can kayak to the original coves of Lake Renee, Lake Paula and up to Hostetter Creek all from our location. Other paddling destinations would be paddling to the Lake's main channels (Caney Creek Branch or the West Fork of the San Jacinto). Land kayaking destinations would be Cagle Camp, Stubblefield Camp, scotts Ridge Park, or countless other spots throughout the forest.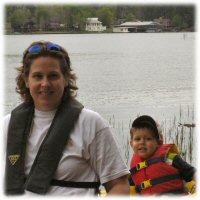 8. We have kids. Can they paddle too?
You bet they can. We have open-deck youth kayaks for them. Typical age of a young NLCPC paddler is 7-13 years of age. But for 2-5 years range, NLCPC has a special boat where adults safely transport their "future paddlers" in an oversized, suitable, open tank well. NLCPC also supplies our "little" guests with appropriate sized PFD's (vests), too. See the pictures on the Gallery page.
9. Lifting, tying down, shuttling, accessorizing and putting-in a rented kayak sounds like a lot of work?
It does and it can be. But at NLCPC, we do all the work (except paddling). We are operating on a kayak-friendly lake front property with all the boats, gear and the great service you'll need. There is no need to shuttle anymore. Why not save your energy for the paddling. Just show up with a love for the water... and a little sunscreen.
10. I already have a kayak, but others in my group need one. Can they rent kayaks for themselves while I bring mine to NLCPC?
Of course. If you are coming with others, who will be renting from us, there is no problem in putting-in your own kayak(s) and with no applicable put-in fees.
Email Us
(936) 203-2697